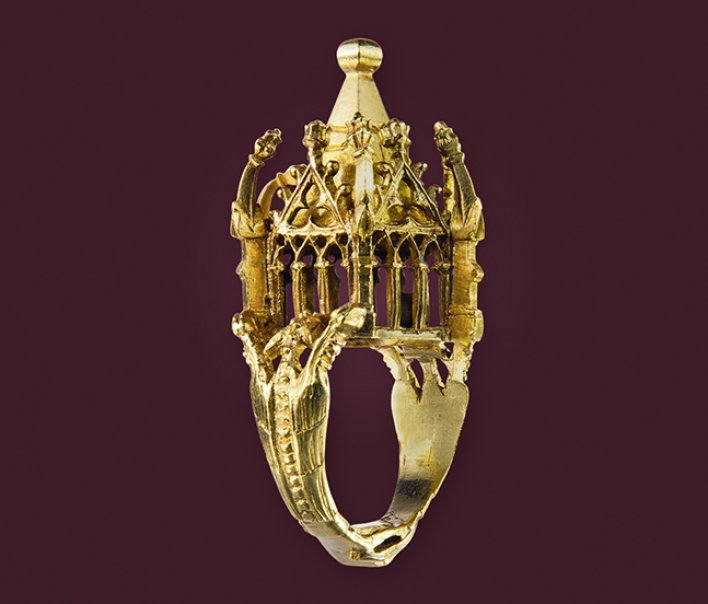 The Erfurt Treasure contains a total of eight finger rings in very different styles, mostly of gold: They range from simple, delicate ladies rings with stones to a massive sapphire ring to the intricate and grand Jewish wedding ring. Given its Hebrew inscription "masel tow" (good luck) and a miniature edifice the ring can be assumed to be a Jewish wedding ring. Since there exist only four such wedding rings worldwide, this is certainly the most important find of the Erfurt Treasure.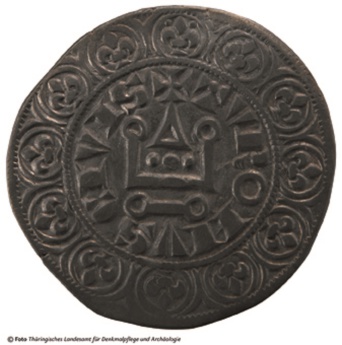 The most magnificent pieces of jewellery in the Erfurt Treasure are without a doubt the eight brooches and jewellery discs, which are studded with coloured stones: Three pieces are decorated with small animal figurines, two pieces of jewellery are commonly used ring brooches. Another brooch is in the shape of a bow and arrow. The Erfurt find also contains several belt sections.
The Erfurt Treasure find is also remarkable from a numismatic point of view, because the coins are one of the first sort that were not just used regionally: The find contains 3,141 tornesel. These are for the most part French Kings' tornesel or faithful imitations, which have the names of the French kings as legends. Most of the coins bear the legend of Louis IX, Philip III, Philip IV or Philip V.

In addition the find comprises 14 silver bars, which are also described as "Gusskönige" in German (the name for a piece of metal when it has been taken out of the cast). Apart from one exception each exemplar had been given a stamp to guarantee its purity. Because of the stamp motifs showing a simple image of a wheel, the pieces most probably come from Erfurt; on two bars an Erfurt citizen is also named – Johannes Nase.
The Erfurt Treasure also includes a collection of silver tableware, which is composed of a set of eight goblets, a jug, a drinking vessel and what is known as a double head (a double vessel consisting of two cups which fit together so that one forms the lid for the other). Traces of use show that these vessels had been used by their former owners.