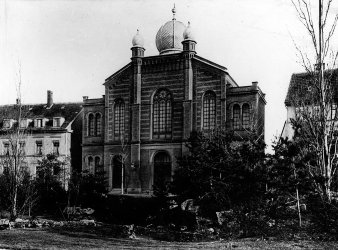 The Erfurt synagogue community commissioned Frankfurt architect Siegfried Kusnitzky to design a new building on Kartäuserring, who also created the synagogue on Börneplatz in Frankfurt at around the same time.
The splendid red-brick building was inaugurated on 4 September 1884.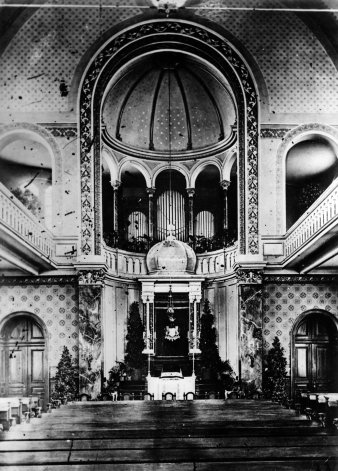 The festivities were chaired by the Erfurt Rabbi Dr Theodor Kroner. The Great Synagogue could accommodate 500 people, was richly decorated inside, adorned with coloured paintings, and even had an organ. It was the centre of the community for 45 years – until the November pogrom: In the night from the 9 to 10 November 1938 the Synagogue was plundered and ransacked by SA ("Sturmabteilung" or Storm Troopers, the paramilitary wing of the Nazi Party) and set alight. The costs for the demolition of the ruins and the fencing in of the site amounted to 6,900 reichsmark and were charged to the synagogue community. The municipality bought the land in 1939 for 15,000 reichsmark and in 1940 constructed a wooden shed for storing coke.
The New Synagogue was built in 1951/52 on the site of the Great Synagogue and was inaugurated on 31 August 1952 and is today the centre of a lively community life.