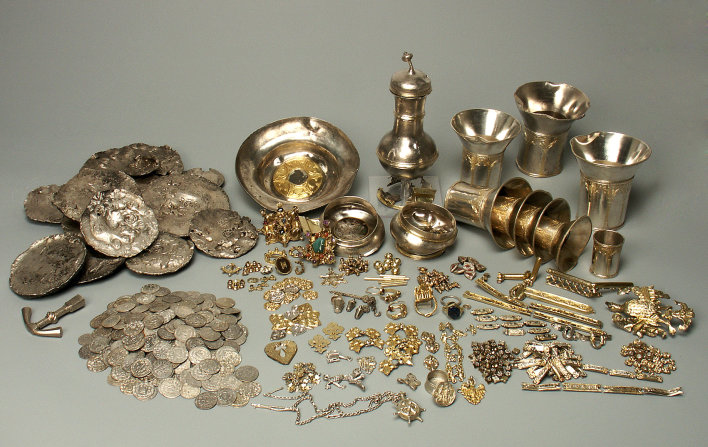 The treasure has a total weight of nearly 28 kilogrammes. With around 24 kilogrammes, 3,141 silver coins and 14 silver ingots of different sizes and weight form the biggest part of it. Moreover, the hoard contained over seven hundred individual items of gothic goldsmith's art, some highly accomplished.
Among them is an ensemble of silver tableware, consisting of a set of eight beakers, one ewer, one drinking vessel as well as a double cup. Among the pieces of jewellery, eight brooches of different sizes and form, partly with abundant ornamentation of precious stones, stand out as well as eight gold and silver rings. Yet, smaller objects such as parts of belts and garment trimmings numerically form the biggest part of the goldsmith's works.
The treasure's most outstanding object is a Jewish wedding ring from the second quarter of the 14th century. Most captivating is the craftsmanship of its Gothic miniature architecture, made of pure gold.
Set into context with other examples of goldsmith's work and associated craftsmanship, and taking into account contemporary images, the entire hoard can be dated between late 13th and the first half of the 14th century.
Although the Gothic period was an exceptionally jewellery-rich period, when men and women liked to show their wealth wearing numerous adornments, and silver tableware was no rarity, either, only very few non-ecclesiastical goldsmith's works have been preserved. They were mainly assessed according to the value of their raw materials, as they were an investment in addition to their actual function. That is why they were pawned, sold or remelted as required. Furthermore, fast-changing vogues led to "old-fashioned" objects being reworked into new, more up-to-date jewellery.
That, accordingly, is what makes the Erfurt Treasure so unique and why it has already been exhibited in New York, London and Paris before being put on permanent display in the Old Synagogue since 2009.