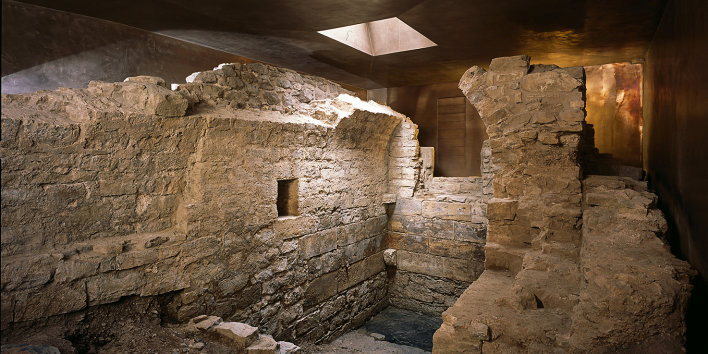 The ritual bath is, in addition to synagogue and cemetery, an important part of the Jewish community. It was mainly used by women, which is why it is often called "women's bath". It served ritual purification after coming into contact with the dead, blood or other objects that were considered unclean in a religious sense.
Animation film on the construction of the medieval mikveh
The Jewish quarter
A woman uses the immersion bath after her menstrual period and after giving birth, before sharing the bed with her husband again. Physical cleansing takes place before. Observant Jews also purify ("kasher") crockery before first use.
A mikveh is fed by "living", i.e. flowing water. This was in plentiful supply here thanks to the proximity of the river Gera. The water supply in the basin is still working. The water level is however much lower than in the Middle Ages, probably because of the construction of the flood channel at the end of the 19th century and the consequent reduction of flow through the city centre.

Documentary evidence on the mikveh goes back to the middle of the 13th century. It shows that the Jewish community had to pay charges for the ritual bath and for the land, initially to the bishop, later to the city of Erfurt. From the medieval tax lists we learn that the environs of the mikveh were densely populated. As everywhere in the Jewish quarter it shows that Jews and Christians lived side by side.