Permanent exhibition Small Synagogue
Jewish life in Erfurt in the 19th and 20th centuries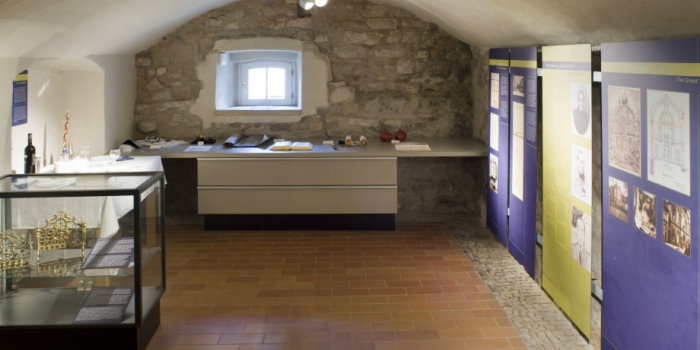 The exhibition in the cellar is devoted to the history of the third Jewish community in Erfurt in the 19th and 20th centuries. About 350 years after the Jews were expelled from Erfurt they started returning around 1800. David Salomon Unger was the first Jew since 1453 to be granted municipal citizenship in 1810. His son Ephraim Salomon Unger was named an honorary citizen of the city of Erfurt in 1860. Further notable persons are introduced in an exemplary way, from the period of integration and assimilation through anti-Semitic hostilities before the take over by the Nazi Party to the systematic destruction of the Jewish community from 1933, until the revival of the synagogue community in early summer of 1945.

The history of the community is reflected in its synagogues. In the exhibition three synagogues are presented: The Small Synagogue (1849) with the mikveh, the Great Synagogue (1884) and the New Synagogue (1952).

Two small Hanukah candelabra and a menorah, which were used in Erfurt in the 18th and 19th centuries, tell their own stories. The exhibition also tells you about the rituals of Judaism.